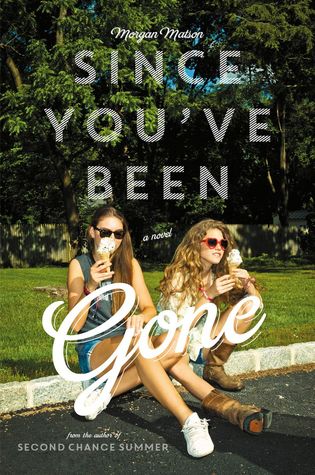 Forfatter: Morgan Matson
Utgitt: 6. mai 2014
Forlag: Simon & Schuster
Språk: Engelsk
Medium: Kindle
Kjøp fra BookDepository
A translated review for the YA contemporary challenge is on the bottom of this post.
I starten av sommeren er bestevinnen til Emily, Sloane forduftet. Noen dager senere får Emily en liste med utfordringer i posten fra Sloane. Utfordringer som "klem noen som heter Jamie", "sov under stjernene" og "kyss en fremmed". I håp om at listen skal avsløre hvor Sloane er blitt av starter Emily på listen. For hver utfordring hun krysser av listen utvikler Emily seg fra en sjenert jente med bare Sloane som venn til en jente med et hav av nye opplevelser og uventede vennskap.
Emily er i starten av boken veldig sjenert. Hun snakker ikke med andre hun ikke kjenner og gjemmer seg bort og unnviker heller mennesker enn å snakke med dem. I gjennom boken utvikler hun seg derimot uendelig. Hun blir satt i situasjoner der hun er nødt til å håndtere andre mennesker og innser at det kanskje ikke er så gale. Hun dømte også de fleste før hun ble kjent med dem, men når hun endelig ble kjent med noen så innså hun at de ikke bare var stereotyper. Det lå så mye mer bak alle enn at de var skoleflink og hyggelig eller flørtete og morsom.
Emily har også opphøy tankene sine om Sloane. Hun har sett på henne som en perfekt jente men en perfekt personlighet som lever det perfekte liv. Men etter hvert som hun begynner å tenke til bake på minner de har sammen og hvordan Sloane var i forhold til menneskene hun møter så innser hun at Sloane kanskje ikke alltid var like perfekt.
Boken er fortalt fra Emily sitt synspunkt, og var i starten nesten irriterendes å lese. Hun unvikte alt av mennesker og konfrontasjoner. Men etter hvert som Emily begynte å åpne seg opp ble det lettere og gøyere å lese. Grunnen til at Emily vil fullføre listen er fordi hun håper at det vil gi henne et hint til hvor hun kan finne bestevenninnen sin. Vi blir kjent med disse jentenes vennskap gjennom tilbakeblikk til minner Emily har av de to. Dette var interessant og gjorde at man ble kjent med en karakter som ikke var med i historien. Vi fikk også et godt intrykk av hvordan Emily var tidligere og deres vennskap.
Et lite element som kom overaskende på meg men som jeg likte veldig godt i boken er hvordan Emily og Frank, en kamerat hun får i løpet av sommeren, lagde spillelister til hverandre. Jeg har selv sjekket ut mangen av disse sangene og likte dem godt. De var også gøy å høre på dem og tenke seg om hva de kanskje tenkte når de lagde disse spillelistene. Det var sånn en vanlig men kreativ ting å putte inn i en bok som jeg syns var kjekt!
Alt i allt var det en bra bok selv om starten var litt irriterendes. Det ble veldig urealistisk for meg at ens bestevenninne bare skulle forsvinne og alt hun etterlater er et tomt hus og en liste med utfordringer. Jeg hadde også problemer med Emilys holdning til andre mennesker i starten. Men Emily når startet å utvikle seg og jo mer vi lærte om vennskapet deres så ble boken gøyere å lese. Jeg likte også godt tilbakeblikkene som viste at alt ikke var like perfekt som Emily tidligere hadde fortalt. De nye karakterene som kom inn i Emily sitt liv, vennskapet deres og personen Emily var rundt dem var noe jeg likte veldig godt. Jeg elsker hvor mye alt utviklet seg og alt i alt var det en søt historie!
En koselig sommerbok om å finne seg selv. Pluss for spillelister!
4 / 5
In English for the 2014 YA Contemporary Challenge.
The Pre-Sloane Emily didn't go to parties, she barely talked to guys, she didn't do anything crazy. Enter Sloane, social tornado and the best kind of best friend—the one who yanks you out of your shell.But right before what should have been an epic summer, Sloane just... disappears. No note. No calls. No texts. No Sloane. There's just a random to-do list. On it, thirteen Sloane-selected-definitely-bizarre-tasks that Emily would never try... unless they could lead back to her best friend. Apple Picking at Night? Ok, easy enough.Dance until Dawn? Sure. Why not? Kiss a Stranger? Wait... what?
Getting through Sloane's list would mean a lot of firsts. But Emily has this whole unexpected summer ahead of her, and the help of Frank Porter (totally unexpected) to check things off. Who knows what she'll find?
Emily was very shy in the beginning of the book and she would rather hide away from people than confront anyone. Throughout the book however she is put in situations where she has to socialise and she starts to come out of her little bubble. She also judges everyone before she has met them, and it is interesting to see how she realises that not everyone are not stereotypes after she gets to know them. Emily also has a very high opinion of her best friend Sloane. But once she makes new friends and meets new people she realises that Sloane might not have been as perfect as she made her out to be.
The book is told from Emily's poin of view and in the beginning this annoyed me. She shys away from everyone and everything. But when she starts to open up and grow more confident the book gets easier and more fun to read. The reason Emily is trying to cross everything of the list is so that she can find her best friend. Since we do not know Sloane through the story that is unfolding we get to know here through flashbacks to Emily's memories. It was interesting to see what kind of friends they were and how Emily used to be.
One thing that came as a good suprise in the book was how Emily and her Frank made playlists for each other. I had a fun time making these playlists in spotify and listening to some of the songs. It was fun thinking about what the characters must have been feeling or thinking when they made the playlists. It was such a normal but creative thing to put in a book and I think it turned out great!
This was a fun book even though the start was a bit annoying. The whole idea of a best friend disapearing and just leaving an empty house and a to-do list felt really unrealistic. I also had some problems getting over Emily's attitude in the beginning. But once Emily started evolving and changing, and the more we learned about her and Sloane's friendship, the more I liked the book. I also really enjoyed the flashbacks that showed you that not everything was as perfect as Emily seemed to remember it. I also loved the new characters that came into her life, the new friendships and how Emily acted around them. All the evolving was great and all in all this was a sweet story! A nice summer read about finguring out who you are.
4 / 5